LONGEVITY TAKES SHAPE AT LSS
Older Adult Resource Network
Communities are their best when people of all ages are engaged and supported. By connecting older adults to resources, LSS helps people ages 65 and older improve their quality of life where they put down roots.
Aging in rural communities presents unique challenges that can limit access to healthcare, transportation, and other services that are vital for older adults to maintain their independence. Through Older Adult Resource Network (OARN), LSS helps older adults in Douglas and Charles Mix counties access services and supports. There is no charge for coordination efforts by LSS. By connecting a network of providers, LSS offers referrals and services to qualifying individuals.
PRIMARY PRINCIPLES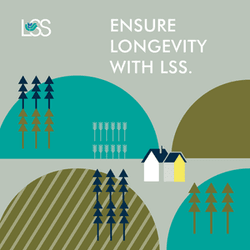 Whole Person Approach
The LSS OARN coordinator gets to know each person. Through conversation and a home visit, LSS seeks out needs and improves the awareness of services available to older adults.
Five Areas of Potential Gaps
The program is open to help with identifying resources for many needs and focuses on transportation, food security, social isolation, healthcare navigation/referrals, and safe housing.
Optimize A Network of Stakeholders
LSS serves as a connection point between individuals and a network of local, state and national entities that deliver services. LSS makes needed referrals to services and assists people to identify potential solutions. Qualifying individuals have free access to LSS Behavioral Health Services and LSS Center for Financial Resources.
Strengthen Caregiver Capacity
Through this program, caregivers and community partners will grow in their capacity to address gaps in care for older adults and be more aware of the needs of older adults and resources in their community. LSS also will coordinate unique educational sessions and materials to assist the community as a whole.
ENROLLMENT
Referral
An individual, family member or caregiver makes a referral to the LSS Older Adult Resource Network coordinator based in Armour, South Dakota, by emailing OARN@LssSD.org or calling 832-525-8699. Self-referrals are accepted. The service is available to anyone ages 65 and older living in Douglas or Charles Mix counties.
Home Visit
The LSS coordinator contacts the referring party to set up an introductory meeting for the individual to learn more about LSS. A brief assessment will be given at this meeting to help determine needs. The older adult/family has a choice to enroll; there is no charge for the home visit nor any obligation to participate in additional services.
Connecting to Services
Upon OARN enrollment, the coordinator works directly with the individual to connect them to available services provided by local, state and national agencies to meet the older adult needs. LSS conducts regular check-ins with older adults and provides support along the way to ensure needs are being met.
For more information call 832-525-8699, or email OARN@LssSD.org to let us know how LSS Older Adult Resource Network can support you best.
The Older Adult Resource Network program is made possible through a grant from Lutheran Services in America. The initiative is a three-year project to improve the quality of life and allow older adults to age in place. Organizations are establishing this needed service in select Montana, Minnesota, North Dakota, and South Dakota communities.