The Dr. Dave & Mary Ann Kapaska
New Americans in Health Care Fund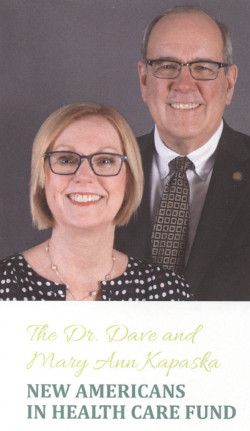 The Dr. Dave and Mary Ann Kapaska New Americans in Health Care Fund recognizes Dr. Kapaska's contributions to the Avera mission by providing higher education scholarships for those entering the dynamic field of health care.
The Kapaskas' compassion for all has inspired countless Avera employees. In Dr. Kapaska's words, "Bring your talent and dedication to work here. But don't forget to bring your heart."
Dr. Kapaska brought his heart every single day: an abiding empathy for those on the margins of society, and deep compassion for the least of these. Avera McKennan Foundation honors him for his encouragement and high example.
Visit AveraMcKennanFoundation.org for more information. Click the link below to apply.