Volunteer One Hour a Week to Mentor a Student
One hour a week may not seem like much time, but you might be surprised by how much that time means to a child. Apply today.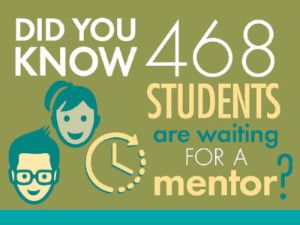 LSS Mentoring Services matches volunteer mentors with K-12 students in all public school districts in Lincoln and Minnehaha Counties. There are currently more than 1,100 volunteers, however many students are on the waiting list for a mentor.
Volunteers meet for one hour per week with the goal to empower youth to succeed by establishing trusting relationships with adult volunteers. Mentors have a significant impact on youth by providing guidance and developing consistent, long-term friendships. LSS operates two distinct programs.
Mentoring works!  It's about building self-esteem, encouraging positive choices, lending a new perspective, and being a friend to a young person who needs someone in their corner. Apply today or ask more questions by filling out the form below, calling 605-444-7803 or emailing mentoring@lsssd.org. One of our knowledgable staff will be in contact with you soon.