Kiesow-Knudsen to Lead LSS into the Second Century of Service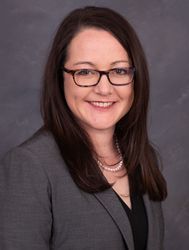 The LSS Board of Directors is proud to announce the appointment of Rebecca Kiesow-Knudsen as the new President/CEO of the agency. After a thorough search, the Board determined Kiesow-Knudsen was the right person to lead LSS into its second century of service.
"I feel blessed and humbled by the opportunity to help guide the strategic direction of the agency. LSS has 100 years of history delivering high quality, essential services to meet the changing needs of the people of South Dakota, and I hope to help steward that tradition into the next 100 years," says Kiesow-Knudsen.
Kiesow-Knudsen recently celebrated 20 years of service with LSS. No one serves for this long without a strong sense of compassion and dedication to care for others. Many agree strategic direction is one of Kiesow-Knudsen's strengths, but her compassion for those we serve is undeniable.
As COVID-19 was building momentum and businesses were faced with difficult decisions, it was Kiesow-Knudsen who said "this is exactly when LSS is called to serve." She kept the doors open for behavioral health service for not only continued care, but especially for people struggling with isolation, grief and loss, and any number of issues created because of the pandemic. She incorporated telehealth technology for behavioral health years before industry standards. She implemented safety measures for childcare centers, so care was readily available for children of essential workers.
Kiesow-Knudsen has been serving as the Chief Operating Officer in the last year and as Vice-President of Community Services for ten years before COO. Although Kiesow-Knudsen has held multiple leadership roles at LSS, she began her career at LSS as the first director of Mentoring Services.
Originally from Sioux Falls, Kiesow-Knudsen holds a bachelor's degree in political science from Gustavus Adolphus College, and a master's in public administration with an emphasis in nonprofit administration from the University of South Dakota.
She has developed professional relationships in local, state and national settings. Some of her many honors and accomplishments include:
Lutheran Services of America 2021 Beacon Award recipient
Sioux Empire United Way Diversity, Equity & Inclusion Workgroup Member, 2021
South Dakota Department of Social Services, Division of Behavioral Health Data and Outcomes Workgroup
South Dakota Department of Social Services, Division of Behavioral Health Criminal Justice Initiative/Juvenile Justice Reinvestment Initiative Rate Review Workgroup
Lutheran Services in America Results Innovation Lab Facilitator and Peer Leader
Chair, Midwest Results Network 2019-2021
Mountain Plains ATTC Frontier Treatment Providers Workgroup Member
SD Legislative Interim Committee on Leveraging Telehealth and Telemedicine
Georgetown Certificate for Racial & Ethnic Disparities, Capstone Author & Workgroup Participant
Leadership Sioux Falls 2005 participant
Kiesow-Knudsen's professional vision, work ethic and commitment have led to providing health, safety and acceptance of all people and communities across South Dakota.
This commitment also is reflected in her personal involvement throughout the community. Rebecca and her husband Greg, a local business owner, and four children are active members of the First Lutheran congregation in Sioux Falls. She has enjoyed being a mentor in the Sioux Falls School District for more than
20 years, and has been a dedicated soccer coach in the Dakota Alliance Soccer Club for the last six years.
Please join the LSS Board of Directors and staff in supporting Kiesow-Knudsen as she leads LSS into the second century of service to South Dakota.