Acknowledging Blessings & Carrying Burdens with Grace
Dennis & Shirley Larson
Every Day He Helps Us with the Loads We Must Carry.
Psalm 68:19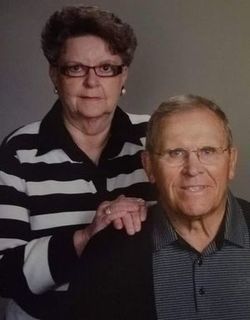 "When you get to be 80 years old, you have time to reflect and realize that you've had so many blessings," says Dennis Larson.
Dennis and Shirley, his wife of sixty years, are retired from farming. Dennis readily talks about his blessings, but the stories are centered around his life's trials and the burdens he carries. It is uncanny, the way he first acknowledges the grace in his life. "That's his way," says Shirley. "I've learned this from him."
The first of God's grace happened early in his young life. Dennis survived a terrible farming accident as a toddler when he was pinned at his mid-section under the iron wheel of a wagon full of rocks. "I'm blessed to have survived."
God's grace was extended into his youth. After his confirmation in 1951, a fellow neighbor boy asked Dennis not to drink or smoke while he played football. "If it wouldn't be for that, I would not have met her (pointing to Shirley). She is a blessing, and she wouldn't put up with me if I drank and smoked," he said as he smiled and held out a hand to Shirley.
Dennis entered the banking field after college and Shirley began teaching. This led to renting and eventually owning their 100-year-old farm.
When the drought in South Dakota came in the 1970s, it tested the faith of many South Dakota farmers. To ease the financial burden, Dennis also worked as a crop agent and owned his own insurance agency for 28 years. Dennis never lost his faith. "It never rained. I went to the road and said, 'God if you will help me save my farm, I will give you ten percent for the rest of my life.'"
"So, that is where it started," he said. In 1992, the Larsons created a Charitable Remainder Trust through Lutheran Planned Generosity of South Dakota.
"LSS is one of the beneficiaries of our Trust," says Dennis. "These gifts can be set up many different ways. We put some land in the Trust, which made it more complicated than a cash or stock gift, but it wasn't difficult. The Charitable Remainder Trust has done well over the years. Each year we take a percentage out as long as we live. In our case, we don't need the income so it's another source of cash we can give to support organizations like LSS."
"We are so grateful for the Larson's generosity," says Paige Short, Vice President, LSS Philanthropy Services. "They have recognized their blessings and have chosen to share them. What a wonderful way to lessen the burdens carried by others. These gifts of legacy ensure that LSS continues its work beyond your lifetime— and that is a precious gift to give."
"I think services like LSS are so important," says Dennis. "Hopefully there are enough of us to keep them going." Every dollar is needed to provide vital services to help those in need. "I've seen how important those gifts have been to LSS. They are like a blessing from heaven."
Gifts of all sizes are appreciated. "It doesn't have to be a substantial gift of land, stocks or cash. LSS can be listed as a beneficiary to a life insurance policy," he added. "Not everyone has the same ability to give."
From the young couple just starting out until today, Dennis and Shirley have continued to acknowledge their blessings and carry their burdens with grace. They were blessed with two children and four grandchildren. Their legacy of blessings will continue for generations.