A New Era Takes Shape
Kiesow-Knudsen Succeeds Oldenkamp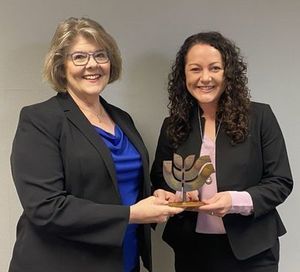 Last June, Betty Oldenkamp, LSS President/CEO, announced her decision to retire on December 17. LSS is honored to have been led into the second century of service under Oldenkamp's vision, dedication and leadership.
"Betty has taught us what it means to be a servant leader. Her compassion for all South Dakotans in need and her commitment to the mission are legacies that will guide LSS now and into the future," says Paul Bruflat, Chair, LSS Board of Directors. "We celebrate Betty and congratulate her on her well-deserved retirement! "
"It's always been my goal to retire early," says Oldenkamp. "I've never been great at managing a work/life balance. My resolution has been, I'm going to work hard while I'm working, and then I'm going to retire and do other things."
"I knew coming in 15 years ago that LSS was a good organization with strong services and a commitment to quality. I also knew that we were going to have to continue to change, evolve and do things differently into the future," says Oldenkamp.
"I feel good about the work that we have done and where we are heading. We have a strong cadre of leaders; I have confidence in their abilities to be on the leading edge of change."
Oldenkamp welcomes Rebecca Kiesow-Knudsen as incoming President/CEO. "I am excited to watch LSS continue to transform with Rebecca's leadership. She is smart, compassionate and can take on difficult problems and execute solutions."
"It was a unanimous decision by the board to appoint Rebecca as the next President and CEO for LSS of South Dakota," says Bruflat. "LSS has an impactful and far-reaching presence in South Dakota. We are excited to have Rebecca lead us into our next 100 years of service. She has demonstrated extreme passion for the mission of LSS, deep knowledge of our programs, and a vision for our future."
Kiesow-Knudsen will begin serving as LSS President/CEO on December 17, 2021. Betty Oldenkamp will continue to serve as President/CEO until her retirement at that time.